I was recently contacted by a customer Karlus Rava from Catalonia asking if I would be interested to take a listen to the recording he made with just a pair of RM-5 ribbon mics he recently purchased. I love to listen to the final productions involving our mics, so I was particularly curios to check-out this one.
Saying that I was impressed would mean saying nothing. I was simply stunned by both – the sound and the talent of the musicians. However, I was still to be surprised even more. I was sure that the composition was recorded track by track and then mixed the conventional way. Though, when I talked to the recording engineer he mentioned that it was a one-take unedited Blumlein recording of the whole band!
Take a listen yourself and then read further:
After listening a couple of times again, I still couldn't believe that he achieved such sound with a single Blumlein pair until he explained the process in details. Here is how the recording was made:
The music video was not filmed life for sure, it was made after the song was recorded and mastered. The positioning of the musicians was rather different from the one you see. First, the vocalist was standing around 30 cm away from the mics. Then all the musicians moved in space to find the best sound and the desired volume levels. The flute player was even placed in another room to fit smoothly in the mix! Finally, when the mix was balanced, the song was recorded as just a single stereo track.
The final production involved some minor EQ and multiband compression, but no editing at all. Actually, the space used to record the song was the same you see in the video, just the positioning of musicians was different, as I've mentioned above (see the pictures of the recording process below).
I consider this composition one of the best recordings made with RM-5 DIY Ribbon Mics I've heard. Let me know what you think in comments!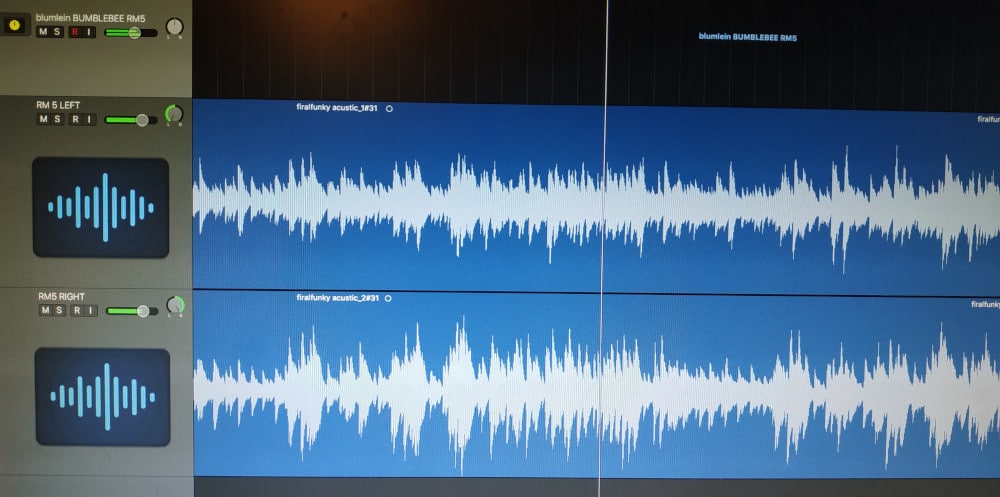 So, if you are somewhere around Barcelona and need a recording engineer, here are the contact details of Karlus Rava:
The product page of the RM-5 Ribbon Mic DIY Kit is located here: